Converting or Adapting Shipping & Storage Containers
Shipping Containers can be repurposed and adapted for all sorts of uses. Whatever you have in mind, our team can help.
You've almost certainly seen containers in use as more than stores for goods. We absolutely love what we see out there, and get as excited as you when converting your ideas into reality.

So, if you've got an idea, a need, or a pipe dream we'd love to discuss your project and help turn those plans into reality.

There are so many uses for containers and conversions seem almost endless. There is also plenty to consider, and get right! That is where teaming up with experienced experts helps ensure that your conversion is just right.

From the start to finish our team will help you chose the perfect container from our stocks, discuss, and advise (if needed) on the conversion, and keep you updated throughout the works.

Give us a call today if you are ready to talk, or scroll down for some inspiration.
Offices / Garden Rooms
From single containers for home offices to multiple, connected containers for larger organisations, the possibilities are endless and can easily be added/taken away, depending on the need.

You might even be planning a garden room like this amazing conversion, or opening your own "Dog & Duck" aka a home bar.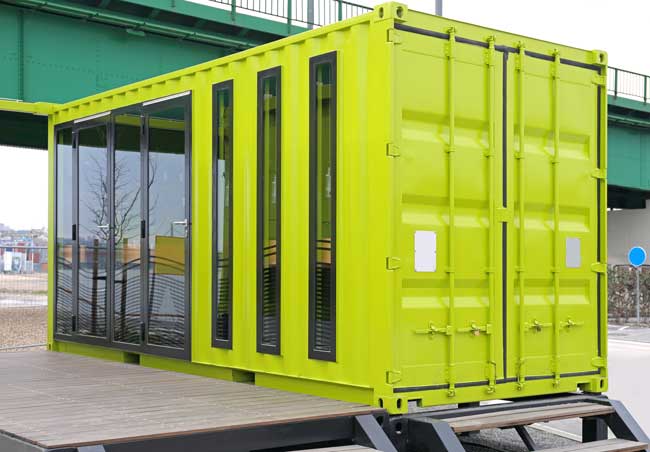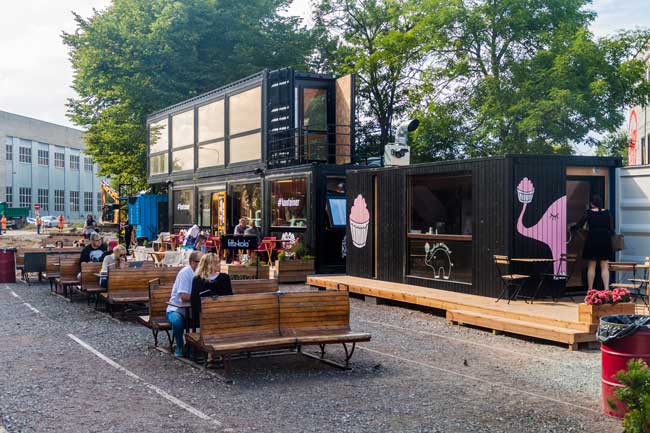 Food Kiosks/Restaurants
Containers have seen a surge in popularity by being utilised as food/drink outlets - from single street vendors to the popular and world-famous Boxpark, with various locations in and around London.
Popup Shops / Business Ideas
Popup shops allow budding retailers and businesses to test the viability of a longer-term retail space, as well as allowing larger companies a limited-time sale or end-of-line location. Christmas tree sellers are another who benefit.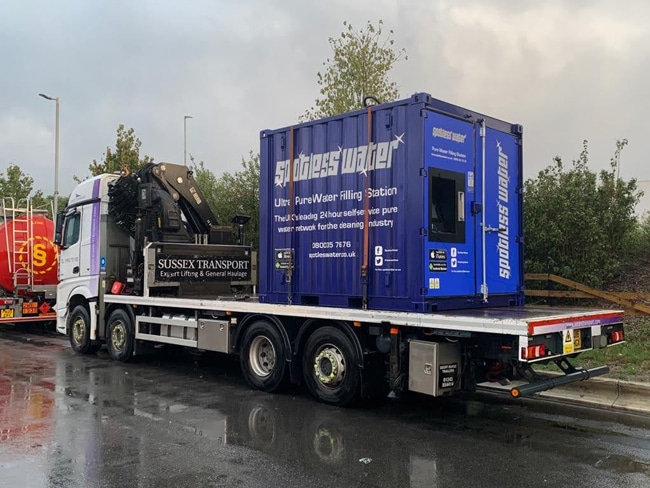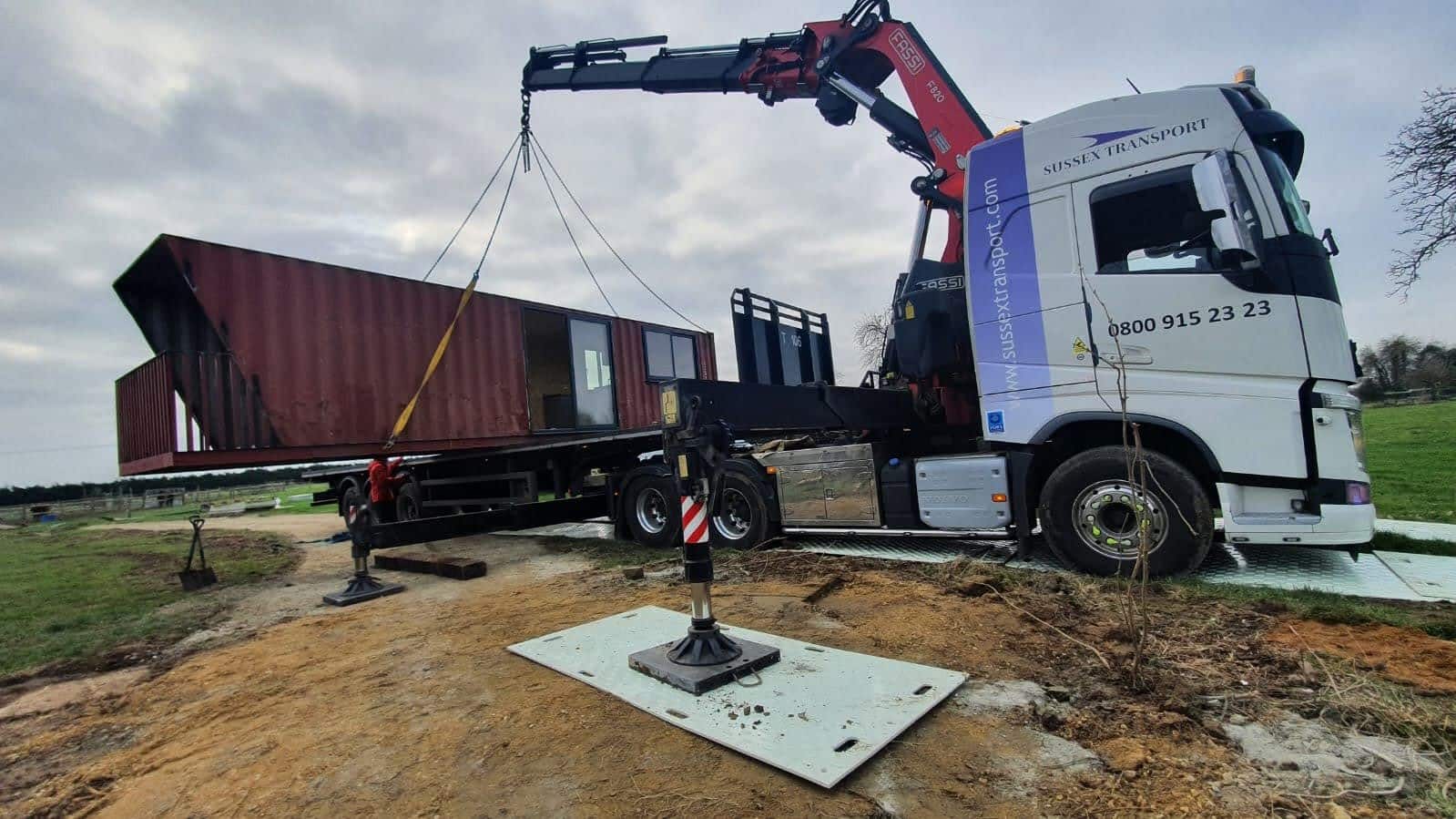 Workshops
With possibilities within both the residential and commercial sector, a workshop in a container means the dedicated space for working, but the flexibility to move from site-to-site, or store during periods of inactivity.
Events/Promotions
As seen here, containers can provide an eye-catching event stand to wow visitors and encourage people to visit.

Plus, there's no time needed to set up and take down... we can just move them there and back for you!

Don't forget, we can also store it between events for you too.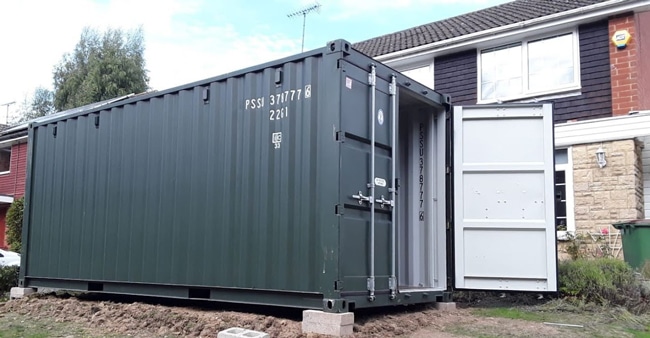 Garage/Bike Storage
Have you got a beloved vehicle you want to protect from the elements, or you want to store your precious bike during the colder, wetter months?

Containers are perfect for this; secure and water-proof, a great alternative to a garage or lockup.

Medical Centres
The Covid pandemic had a massive impact on the shipping container market, in a variety of ways.

We often place interesting conversions on Social media and in 2021 this medical centre overseas caught our eye.

The opportunities for your container really are endless.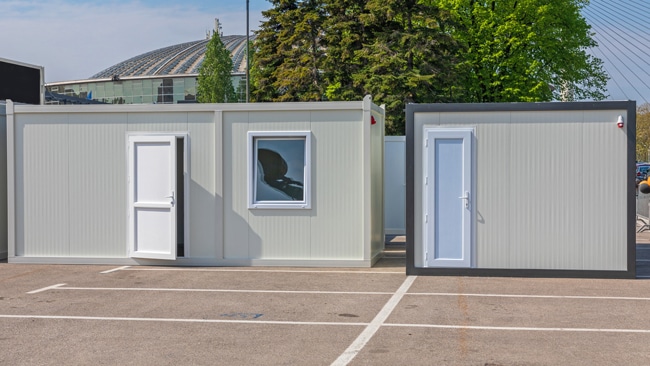 What will you be storing in the container?
The purpose of the container is a key factor in determining whether you buy or rent. If you are using the container for storing equipment for a building project, then renting makes more sense as it is for a short-term project.

However, if you are looking to convert the container for use as an office, or for food preparation then buying is the way to go. Similarly, if you are going to be using the container for chemical storage then this would be a 'purchase old' situation.

How long will you need the container for?
The cost of a container will always be one of the key drivers for people when making a choice. Consider how long you will need the container for; is it a one-off event or is it likely that you will use it on a regular basis?

The one-off cost of a container may be high by buying, but you then own the container for as long as you'd like and can always sell it when you not longer have a need for it.
By renting, there will be a regular cost but you are not then stuck with a container you have no use for and have to sell.
Will the container be static, or will I need to move it?
This is one of the key concerns we have found; the costs of moving the container can be high, especially if the company does not have their own transport arm or methods of transferring the container.

Thankfully, at ST Containers we have a transport fleet we can call on to ensure that your container will not only get to where you want it, but using a system called what3words, we can ensure it can go exactly where you want it. Not only that, but we have the experience to move anything, anywhere – no job is too complicated for our experienced and knowledgeable team.

Who should I buy the container from?
Quite simply, go for reputation. Ensure that the company you purchase from has a solid reputation for providing good-quality containers. You want to ensure that, like anything, you are getting good value for your money and the company you purchase from are able to deliver on their promises…and deliver the container ideally too.

Research reputable companies…or just come to us– we have the pedigree and experience to be able to not only match but exceed your expectations!

Ready to chat conversions?